In this post, I'll let you know about pantyhose for guys benefits, and in general there are 7 benefits that give guys a reason to wear pantyhose or tights.
Pantyhose for guys benefits
Pantyhose and Tights or long stockings were worn exclusively by men through centuries. Engineered to feel good and look good, they also provide a number of additional benefits.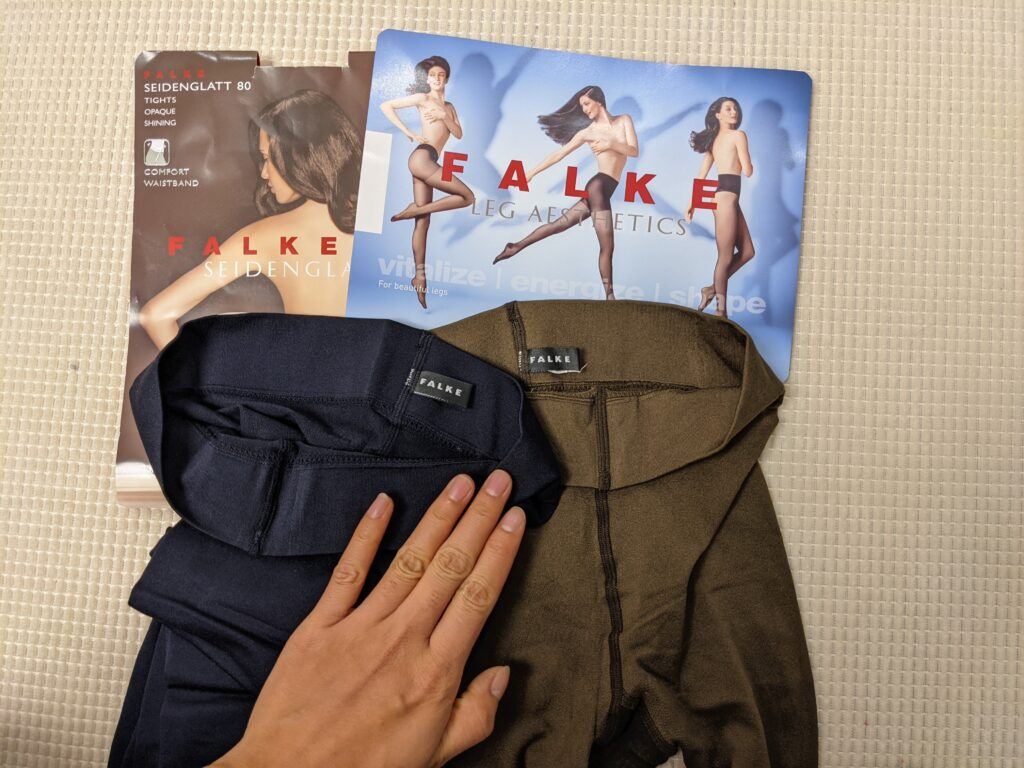 Sports, Workout & Fitness
No matter what sport you like, sport tights will help you perform better. They will keep your muscles warm when you start out and won't be too warm when you're warmed up. Unlike heavy spandex tights, what you can buy from us are much lighter weight, like hosiery. It's even great for spectator sports!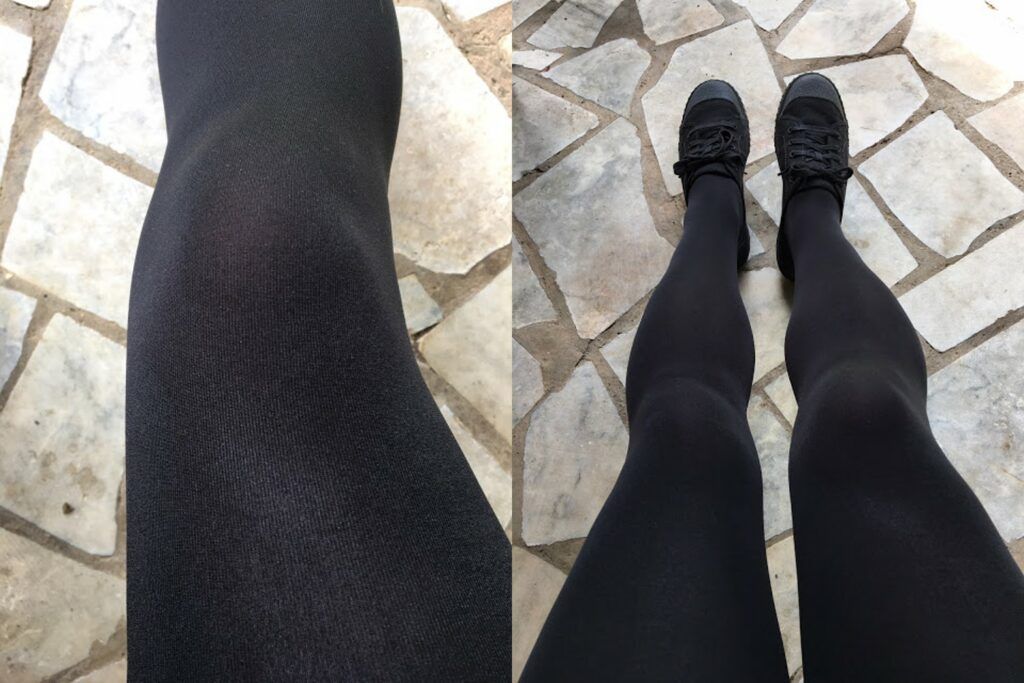 Looking for bike tights or running tights? Something to wear in the gym? Whether your are looking for mild compression pantyhose & tights, warmth, something against friction, or to show off muscles, these tights made for men, and their footless versions (aka meggings) are all at your service.
They are made of materials that are softer than what is used for most sport pants / tights, therefore more comfortable, and more elastic. The Emilio Cavallini tights are made in Italy, while Adrian tights are are from Poland.
In most sports the biggest advantages of our male tights and meggings are leg compression and warmth without bulk. Compression can help with leg circulation and also gives a feeling of support. Typically you would wear a pair of sport tights with shorts to cover the sensitive areas.
Anti-chafing is also a good reason for some sports activity. In many activities you'll be warm and comfortable at the beginning of your workout, and not too hot once you're warmed up.
A lot of men appreciate the convenience of our thigh high stockings – they keep your legs warm but can be easily removed without having to take off your shorts if you do get too warm.
Fashion
Call it hipster, trendy, cool or craze, fashion tights are more than just your famous #OOTD post on Insta / FB. If you feel you have great legs to show off, or just bored with your existing outfit, it might be your time for tights!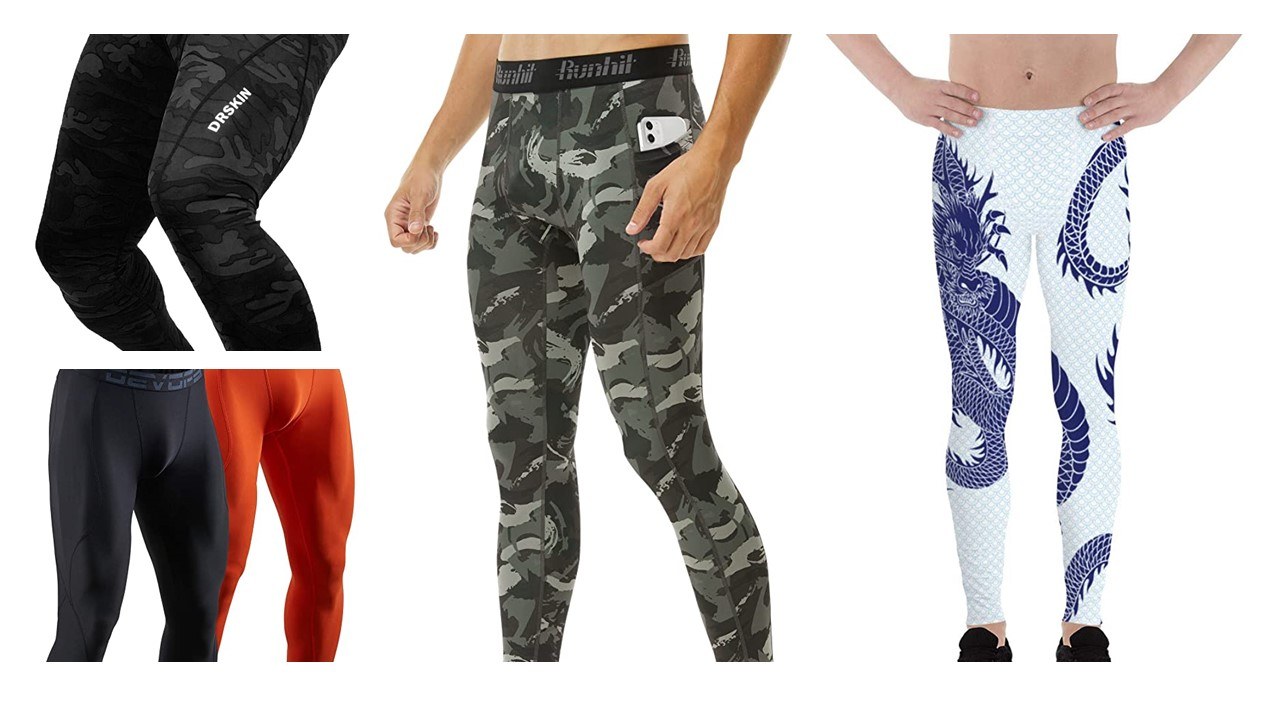 If you want to wear legwear because you think you will find them comfortable and will like the silky feel of nylon on your legs, you're not alone. Millions of other men worldwide feel the same way, but until Activskin was born in 1998, their only choices were women's hosiery, which usually isn't sized right for men, having neither the proper dimensions or the anatomical room.
Note on sheer styles: Wearing a sheer style in a skin matching color will give you that casual, barefoot appearance that looks so good on guys. In cooler weather, wearing a skin-contrasting color will appear to the casual observer as if you were wearing ordinary socks.
At your help during cold days
It's no surprise that warm tights (but even thinner hosiery) can do a fine job as a replacement for your existing thermal underwear.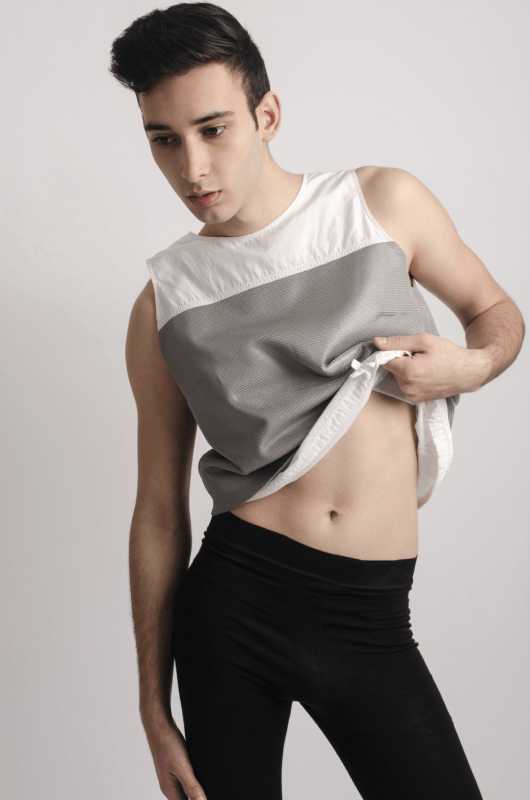 One of the major reasons people get cold in winter isn't so much the temperature, but the moisture. The cotton industry would have you believe that cotton is the ideal fiber for every application, but serious outdoors men, campers, hikers, hunters, and skiers, know that cotton absorbs moisture and gets clammy and cold. Synthetic fibers like polypropylene and nylon do not absorb moisture and instead wick it away where it can evaporate, leaving your skin dry and warm.
This phenomenon works in hot weather too. Instead of your skin feeling damp and sticky, sticking to hot car seats and outdoor furniture, the layer of thin nylon keeps your skin dry and comfortable.
Leg health and circulation
Much of the hosiery we sell provide compression on the legs, increasing blood flow, energizing muscles, and reducing the risk of circulation problems. They also keep feet dry and reduces foot odor and fungus.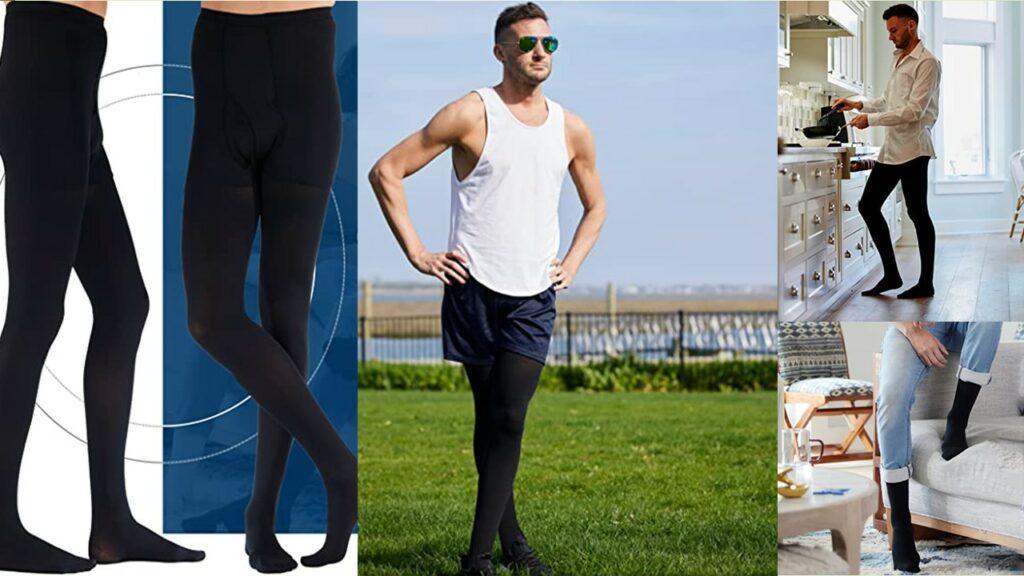 men's compression pantyhose & socks or support stockings, Emilio Cavallini tights provide the same support as well. Compression can also help reduce swelling and decrease the dangers of circulatory problems. If you currently wear or are considering wearing legwear to provide the health benefits of compression on your legs to
improve blood circulation
reduce leg cramps or restless leg syndrome
reduce risk of deep vein thrombosis
reduce varicose or spider veins
we suggest you investigate the styles below and try some of them.
Work Benefits: tights will help you when sitting, standing or walking
Many of the hosiery we sell provide compression that is great for providing stamina to guys who stand or sit in their jobs all day, its thermal insulation will keep you warm and comfortable if you have to go outdoors occasionally, and if you wear wool pants, it will provide protection from itching.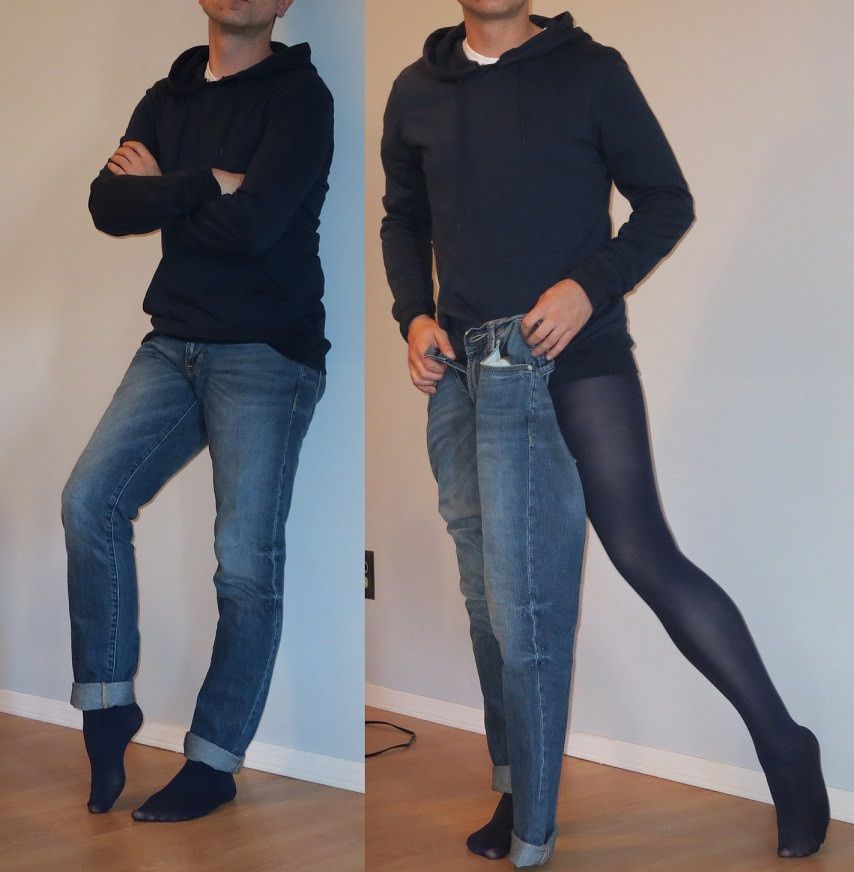 Men love the extra layer of warmth without the bulk of long johns (thermal underwear), which is often TOO warm inside. So if your work takes you in and out of doors in cold weather, you'll appreciate the convenience and comfort of being able to be a little warmer when outside and not too hot inside – and NOT having to put on or remove long underwear all the time.
If your job involves travel, tights made for men, or pantyhose made for men (mantyhose) are ideal. They take up less space than socks and underwear and you can take fewer pairs; just wash them at night in the hotel sink, hang them to dry, and because the fibers don't absorb moisture, they will be dry by morning.
Anti-Chafing & Blister Preventing
Our tights protect your skin from chafing on your feet and in your crotch and thighs. If you hike, they can act as a barrier to keep the friction between the fabric and outer socks, preventing blisters!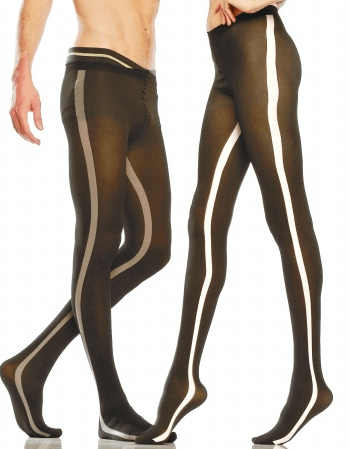 If you wear trousers that chafe or itch, especially wool trousers, these styles of Activskin legwear make an effective barrier to keep you comfortable.
If you hike or walk a lot, getting blisters is no fun. Consider wearing legwear as a barrier to keep the friction between the hosiery fabric and the socks, instead of rubbing your skin.
If you get irritation from your thighs rubbing together, wearing legwear can provide a barrier to prevent that rubbing and irritation.
Protective Barrier
Most tights will protect your lower body from ticks and large insects, and from poison ivy and oak (with caution in handling it afterward). There is even a YouTube video with a first-hand experiment.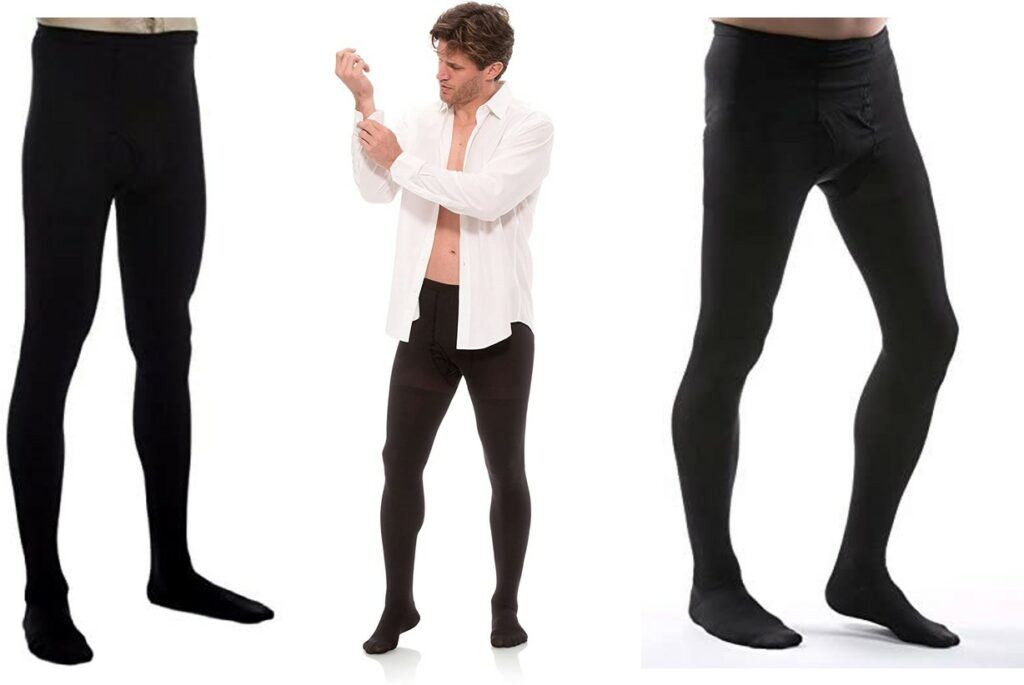 If you are concerned about ticks and other large insects from pesky intrusion, consider these styles. (Note: no legwear is effective on mosquitoes, which have a long proboscis that slides nicely between the yarns of fabric to penetrate your skin.)
Legwear may also be effective in preventing poison ivy and oak, keeping the toxic oil off your legs. But be careful when handling the legwear with your bare hands after exposure!